The Ethics of English Teaching In Japan and the Purpose of ALTs
Like I mentioned in my previous essay "Why I love being an ALT" I've heard some discourse online about whether it's ethical for ALTs to teach English without any teaching or ESL (English as a second language) credentials. I've mainly seen these arguments on TikTok via the teaching English in Korea community. Similar to Japan, Korea also has teaching jobs for native English speakers and there are programs you can apply for similar to the JET Program. I'm not super familiar with the details of teaching English in Korea, but I think it's an interesting idea to consider, and I'd like to explore my thoughts on it in the context of Japan and the JET Program.
Before we get into the actual question of if ALTs need proper teaching credentials, I want to explain the aim of the JET Program and the expectations of ALTs by looking at the official JET Program website, as well as my own contract. My contract outlines exactly what my job description is and what duties I'm expected to perform. The acronym 'JET' stands for 'Japan Exchange and Teaching' which I think says a lot already on what the program is really about. Notice the lack of the word 'English' and the inclusion of the word 'Exchange.' Here's how the JET website describes the goals of the program:
"Aiming primarily to promote grassroots internationalisation at the local level, the JET Programme invites young college graduates from around the world to participate in internationalisation initiatives and be involved in foreign language education at Japan's local government offices, Boards of Education, elementary schools, junior high schools, and senior high schools. … We hope that all people involved in the JET Programme, both the participants and the local people with whom they live and work, will build an international network and become successful in today's global society."
Internationalization is more heavily emphasized compared to education and teaching. The word teaching doesn't appear in this introductory paragraph at all actually. Moving on to the history section of the site, you can read about why the JET Program was started and how it's grown:
"The JET Programme was started in 1987 with the purpose of increasing mutual understanding between the people of Japan and the people of other nations. It aims to promote internationalisation in Japan's local communities by helping to improve foreign language education and developing international exchange at the community level."
Once again, international exchange is the main idea here. Foreign language instruction is simply the vehicle for international exchange and mutual understanding. ALTs are not expected to be proficient at teaching English as a foreign language. This program was not founded on the goal of improving English language curriculum or bringing exceptionally skilled English teachers to Japan. The idea was to expose Japanese students to native English speakers from various countries to promote cultural exchange.
Here are my job duties as outlined in my contract: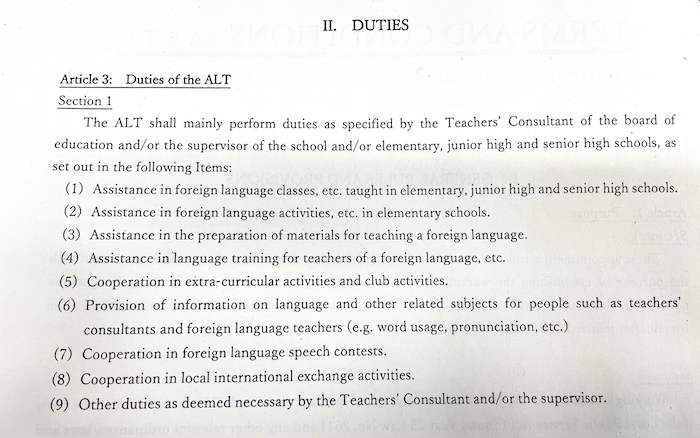 Notice the word 'assistance' throughout this list of duties. The majority of my assistance and utilization in the classroom rests on the fact that I am a native speaker of English from a foreign country. My presence in the classroom and the materials I prepare allow the students to hear native English speech and learn about my home country in English. They get the opportunity to learn about where I'm from while also practicing their English skills. In addition, they teach me about Japan and Japanese culture. This is what the JET Program and the ALT role is all about and this is why it's not really important for ALTs to have any sort of official teaching credentials. The bulk of their English instruction is from the JTEs (Japanese Teacher of English), not me. I provide something the JTEs cannot, and my interaction with the students is their opportunity to practice English with a native speaker in a structured environment with low stakes and low pressure. My lessons are also meant to be fun and give them a real world application of speaking, writing, listening, and reading English. At least as real as possible in a classroom setting. Without ALTs, most students would probably never speak to a native English speaker unless they were able to study abroad, and that's not a realistic possibility for most Japanese schoolchildren.
With all that being said, I get where some people are coming from with the argument that teaching English in Japan (or Korea) without any actual teaching experience or credentials could be unethical. One of the main arguments I saw in the teaching English in Korea community on TikTok was the idea that people used teaching English as a means to an end for them to realize their dream of living in Korea. I think the same is true of some ALTs on the JET Program. Many people that apply for this program have no desire to teach and did not major in English or education. Some of them really don't care about the students at all and just took the job because it's the easiest way for them to get to Japan. It's incredibly difficult to get any other type of job in Japan, especially when you're outside of the country and don't have an extremely high level of Japanese language ability. In general, I don't see too much wrong with this on the assumption that even if they don't have a passion for teaching they will still try their best to fulfill the role of an ALT while they're here. I think anyone can find a way to share their experiences and culture in the classroom if they are willing to put in the work. The only problem I have is with ALTs that clearly dislike the job and the students and put in the bare minimum effort. The students deserve better than that.
One of the teaching English in Korea programs is called 'EPIK' and it stands for 'English Program in Korea.' I took a quick glance at their website, and the required credentials and job duties are very similar to the JET Program. The main idea, like the JET Program, seems to be cultural exchange and the role of teachers is that of an assistant, not the main instructor. After doing more research, I saw some teaching jobs in Korea require a TESOL (Teaching English to Speakers of Other Languages) or TEFL (Teaching English as a Foreign Language) certification, which is not usually required for ALT jobs in Japan. I don't think either certification is necessary to be an effective ALT in Japan, and based on what I can tell I don't think it's necessary in Korea either. I'm not saying it won't help you at all with your job, but it's not a requirement for a reason. That reason being that ALTs are only responsible for a small portion of the students' English education and that portion is meant to revolve around cultural exchange. It could strengthen your application though, and if you're interested in teaching English after returning to your home country it might be useful for that as well.
Considering the nature of the ALT job, I don't think it's necessarily fair to expect lots of teaching experience. A seasoned English teacher most likely isn't going to find the role of ALT all that appealing. And like I've mentioned throughout this post, teaching credentials are not necessary to be an effective ALT. Someone who enjoys interacting with children and has a passion for cultural exchange can do well in this role. I had a little bit of teaching education and experience prior to becoming an ALT and I think those experiences have given me a slight advantage. However, I still had so much to learn and I have developed significantly as a teacher over these past 6 months. I never felt like my JTEs really expected me to be a lesson planning pro, they just wanted me to interact with the students and teach them things they can only get from me, as an American English speaker. When you consider all of these factors, it's not really a problem for ALTs to lack formal teaching education or experience, because our primary objective is providing cultural exchange opportunities in English classrooms all over Japan.